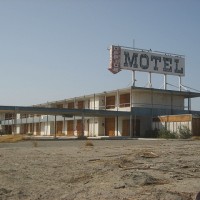 Keeping your anxiety under control is very important for ensuring that you perform your best. When you take into consideration the time and money you invest in agility, naturally you want to do well when you venture away from home to compete. One of the hidden stressors on your mental game and overall performance exists outside the ring. In fact, it's usually away from the competition venue completely. The accommodations that you choose, can have a big effect on how you perform.
I've written before about our limited mental resources. When you find yourself in an uncomfortable, anxiety provoking hotel "situation", you are eating up valuable energy and resources that can no longer be used to help you perform your best in competition. Your sleep can be negatively impacted (beyond just that caused by an uncomfortable mattress). Your food choices and eating habits often change, and your normal pre-competition routine can be disrupted. All things that spell trouble for your performance.
There's no question that doing some research, developing an accommodation and meal plan, and of course, gaining experience – that is having some bad experiences – will help make your future stays less stressful.
Now here's a fun story  that happened to me as a kid while staying in a hotel for a hockey tournament.
At the end of the first day of competition, we returned to our hotel after a team dinner. Our entire team and their families were staying together at the same hotel. We were all on the same floor so, we spent time hanging out together before getting to bed for a good night's sleep in preparation for the next day's challenges. Now, at these tournaments, some of those non-competing individuals (parents) that were there to support the players, liked to stay up a little later and enjoy a beverage or two. This night was not any different. Among our group, there were also a couple pranksters that liked to keep everyone on their toes. This combination, drinks and pranks, would come into play a little later in the evening, rather in the early morning, as this riveting story unfolded.
At 3:30 AM, or there about (it was really early in the morning) our hotel phone rings. On the other end, one of the pranksters, after a few drinks.
"Hey, you need to get out of your room now."
"What?"
"You need to pack up and leave."
"Really." At this point, the phone is hung up. Nice try.
Two seconds later the phone rings again.
"You need to leave now. Pack up all your things, we're all leaving. The SWAT team have raided the hotel."
"Wow, you're stretching now. You may as well have said the building was on fire. Stop waking us up."
The phone gets hung up with a little more authority this time. But, two minutes later there's a knock on our door. It's the same person. "You need to leave."
"Go away. This isn't funny! Go pester someone else."
Silence. Ahhh. Now everyone can get that rest for tomorrow's big competition.
We wake at 7 AM and get ready to leave. As we hustle out the door, we notice that no one else is up getting ready to leave. We hope that they aren't all sleeping in. But it wouldn't be a surprise after last night. It seemed like things got a little silly.
As we round the corner and approach the stairwell, for the first time, we begin to doubt that the events of last night were actually just a prank. Across the entrance to the stairwell, police "do not cross" tape is blocking our exit. The last hotel room door has the same treatment and some kind of locking mechanism over the door handle.
So we back up and head the other way down the hall and around the corner to use the other stairwell. Once again,there is police tape over the stairwell entrance. We're trapped.
Quickly, an executive decision is made and we head back to our room and pack all our stuff. In a matter of minutes, we've got all our things out of the room and we slip through the police tape and head down to the lobby.
Thankfully, several of our teammates were down in the lobby, getting ready to head to the competition so we got the scoop on what happened last night.
Someone at the hotel, but not from our team, called the police about some suspicious goings on from the now sealed hotel room on our floor. The police came by to check it out and identified a man staying in the room as a dangerous and wanted drug dealer. At this point, the SWAT team is called in, and the police start clearing the floor. Before the police are able to make their move, the alleged drug dealer senses something's up and bolts – getting away but leaving behind drugs, money, and weapons in the room.
After the excitement had died down, the police continued to clear the floor. All except one room. For some reason the people in that room aren't getting out of bed and leaving. But now that there's no imminent danger and they aren't in the way, the police let them enjoy the rest of their night's sleep.
And, that's my fun hotel story. Suffice it to say, this exciting incident probably played a role in our early exit from the tournament – or maybe it was the pranks and lack of sleep – either way, our morning game was not our finest.
I'd like to get your opinions on which hotels are the best for staying overnight with your dog(s) and why. And I think it would be great to hear some hotel adventure stories, the good, the bad, and of course, the ugly.
Share in the comments.
[poll id="12″]