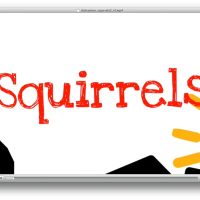 [jwplayer player="2″ mediaid="2815″]
When I started making this video I was reminded of some fond memories I had spending time with my Grandma. She used to put peanuts out on her apartment balcony (we called it a gallery – I think that's a Montreal thing) for some of the squirrels that lived in the backyard.
While all the squirrels could partake in the feast, the best nuts were always kept for one particular squirrel. He (she? I couldn't tell) only had three legs and my Grandma always felt bad for him because he was always the last to arrive. I don't remember if she had given him a name, but let's call him Stumpy.
It didn't take long before you could feed Stumpy right from your hand. As a six year old, I found this pretty cool and one of the (many) highlights when we visited Grandma.
Well, being only six with a younger brother of four, my attention span was short and my brother's was even shorter. The coolness of hand-feeding a squirrel quickly wore off and we always wanted to play in the backyard. And this is when I learned inviting squirrels to dinner on your back gallery might not be the best idea.
As my brother and I headed out the back door, Grandma would always tell us "Don't run and make a lot of noise on the gallery. You'll scare away all the squirrels." Okay sure, fair enough.
Now on one particular spring afternoon, as we stepped out onto the gallery, being as calm and as quiet as only 6 and 4 year olds can, all the squirrels scattered as usual. That is, all except for ol' Stumpy.
Stumpy wouldn't "shoo" or "go away". To Stumpy, humans were not to be feared. They were where you got the best nuts this side of the maple tree. And hey, two small humans were even better.
So there we stood. Me and my brother (trying to be quiet) and Stumpy the three-legged squirrel. Eye to eye (Stumpy was on the railing). Who would be the first to flinch?
Before I go any farther, let me tell you a little bit about three-legged squirrels. They've gone toe-to-toe with death and come out on top, shy only one limb (hey, it's only a flesh wound). The world owes them some peanuts and they don't take no for an answer. People say "Don't mess with Texas but I'd like to amend that. What it should be is "Don't mess with Texas and three-legged squirrels."
Okay now back to the gallery.
So there we stood locked in a momentous battle of wills. The staring match of all staring matches. My naïve brown eyes, sweet and pure, and the black, beady little eyes of the bloodthirsty rodent.
I couldn't stand the pressure.
I blinked.
Stumpy attacked.
He wanted those peanuts… bad!
Now, this could be me (fondly?) reminiscing and remembering what I want to remember or this may have really happened and my brother and I were attacked by a three-legged squirrel. It really doesn't matter. What does matter is the take home message. Never invite a squirrel to dinner (metaphorically or otherwise) and expect him to leave on his own volition.
So if you happen to run into me one day at an indoor agility trial or a flyball tournament; there might be a chance, just maybe, that you'll catch me cautiously peeking out the door before I pass through. And now, if you're lucky enough to see this, you won't have to ask why.
---
I'm going to try doing a few more videos. Tell me what you think? Your feedback will let me give you the information you're looking for. I hope some of you will find it a little funny, if a bit quirky, but most of all, I hope that it helps you improve your mental game.