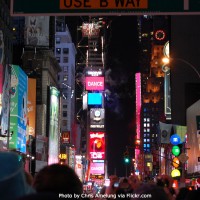 Happy New Year! I hope that you had a great holiday season and Santa was able to bring you everything on your wish list.
As another year begins anew, many of us will be reflecting back on 2012 (the good, the bad, and the spectacular) and looking forward to an even better 2013.
One of the ways I hope to make sure my 2013 is better than 2012 is by coming up with a couple resolutions that will let me succeed this year. I want to create a couple habits that will help me enjoy 2013.
Now, setting a resolution is a good first step, but that alone will not ensure success. Action must be taken. To make the good habits stick you have to be proactive. Both by reinforcing the new wanted behaviour and discouraging the old unwanted behaviour.
At the core of successful habit change is what I like to call the path of least resistance. Our willpower is a limited resource and over time we will try to conserve as much as possible, and that is why we will ultimately seek the path of least resistance. Well established habits require little willpower and new habits require a lot of willpower. In a sense we have evolved to keep doing what we've always done. We have to swim against the current if we want to change our habits.
So the take home message for those, like myself, who are looking to make a change; to make 2013 better than 2012; is to be proactive and instead of relying on willpower to change your habits, set your life up so that the new habits you want to form offer less resistance than the old habits you are trying to lose.
As an example, I want to watch less TV and read more. Instead of relying on my willpower to choose reading over TV, which I know from past experience I won't be able to for very long, I can cancel the cable, thus making it more difficult to watch TV. I also know that when I sit down on the couch in the living room, I always turn on the TV (a well established habit). I can use that trigger (sitting down on the couch) to help build my new habit by ensuring that I place the books I want to read within easy reach of my spot on the couch. I'll also make sure I have a nice reading light set up. Now when I head down to the living room and plop myself on the couch, reading a book has the path of least resistance compared to watching TV.
You can use the path of least resistance technique with just about any habit you want to develop. If you want to make it out to the gym more often, make sure the last thing you do after your workout is to get your gym bag fully ready for your next session. The same works for training your dog. At the end of your training session, set yourself up for the next one. If all you need to do is grab your dog as your heading out the door after work, how much easier is that than getting home and having to gather all your training gear together and then go? Too much time and distractions will leave you relying solely on your willpower.
So to sum up: to be a successful habit changer, put up many obstacles around the habits you want to stop, and make it as easy as possible to do the habits you want to keep. The path of least resistance is the key to developing your new habits and making 2013 the best year yet.
Now if I've got you thinking about the upcoming year, here's a great way to start it off with a bang. I'll be running my Pre-competition Routines for Big Events online course later this January. The last time it was offered was way back in December 2010 and I'm really excited about doing it again. So please stay tuned. I'll be sending out more information next week.
Happy New Year!