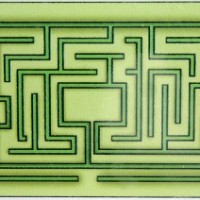 Let's face it, anyone who has ever played agility has felt that panic. That twinge of anxiety that happens as your dog completes an obstacle, looks for the next set of information and you have no idea where you and your teammate are supposed to go next. I'm very confident in saying
"You are not alone"!
I'm sure you can relate to reviewing the course in your mind right before entering the ring just to have it disappear at some point during the run. For the culprit, look no further than the limited capacity of your grey matter. Our brains can only work with so much information before stuff gets dropped and this requires focus and concentration.
There are certain sources of information we need to pay attention to so that we can successfully run a course. Here's a (hypothetical?) conversation between me and my brain as I get ready to run.
Me: Let's head down to the Awesome Agility Runs Store and pick up some supplies for our standard run today.
Me: Piffle! That's plenty. That's all everybody has to spend. And I've seen lots of those good handlers run this course clean.
Me: That's a problem. Okay, lets start spending. We'll need some of those front crosses, and definitely some threadles.
Me: Yeah, that's true. We should throw in some footwork and serps too. They could come in handy.
Me: Ok. We also need to buy that cool new arousal control stuff. It helps you keep your cool even when all your friends are watching. Hey look, some of that dog connection all those agility gurus keep talking about on their blogs. We definitely need that.
Me: Really? Already?
Me: Wow hey look. I can return some of the front crosses and half the course map and save $45 AD. Perfect. Let's go.
Me: Naw, that's why they number the obstacles. We can just figure it out when we get there.
Me: Forget it let's go. Trust me. We have everything we need!
Clearly, this run didn't go well. I could have kept the whole course map and returned something else but it always comes at a cost. I may have known where to go but, something else would have been sacrificed.
So how do those "good" agility handler's buy the whole course map and all the other stuff they need for a great run. It's simple. The Awesome Agility Runs Store has a customer loyalty program. The more you buy the better the deals. By the time you've been a customer for ten years, you'll be able to buy in bulk. The products are never free, but they are a fraction of their original cost.
What these programs do is allow you to group things together and buy at a lower price (e.g., 3 for the price of 1). I want to give you a very powerful example of how we get to buy in bulk using the "customer loyalty program". Grab a piece of paper and a pen and watch the video below.
In this example, when the individual letters were placed randomly, it was difficult to remember all of them in such a short time because there was no meaning in their order or structure. We don't practice (i.e., take part in the customer loyalty program) using letters that way. When there was meaning given to the order of the individual letters, it was very easy to recall each and every letter. We practice using letters that way all the time. We are platinum members of that customer loyalty program.
The same thing happens when we are memorizing a course map. The more time you spend memorizing course maps, the more your brain will associate meaning or structure with the obstacles and begin grouping them together. Through practice we are able to link individual letters into words. Through practice we are able to link individual obstacles into sequences.
Here are a few things you can do to improve your ability to recall the courses you run. Or, how to become a card carrying member of the Awesome Agility Runs Store Customer Loyalty Program.
Spend some training time just memorizing course maps.

Don't stop there though. Test yourself. Give yourself 1 minute to memorize and then recall them by drawing them on a blank sheet. Track your progress.

Visualize each course.

Sometimes at larger events you can confuse the different courses since you walk them one right after the other but then run them hours later. This can also happen at smaller trials where the courses are nested. Use visualization to keep them sorted out. See yourself doing each course on its own.

Name common obstacle sequences.

Giving names to sequences can help consolidate obstacles into a meaningful group. There are already names given to some sequences (e.g., pinwheel) by the agility community at large, but there are many other common sequences that you see all the time that don't have names. Label them.

Push your brain in practice.

Use longer sequences and full courses more often in practice. Limit yourself to 1 or two looks at the map and then go for it. This includes course setting. If you plan on running two or three sequences in a training session. Look at the maps at the start of training but build them from your memory.
If you're up for it, feel free to share your experiences with getting lost on course in the comments. In the meantime, have some fun in practice and spend some time memorizing courses, membership in this loyalty program has it's privileges.