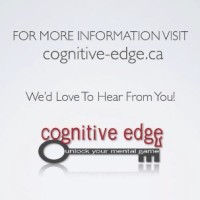 I'm trying my hand at doing some video blogging at Susan Garrett's request.
"Sure John, it'll be great!", she said.
Because she suggested it, she gets to be part of it :). I don't think she minds… do you?
Continuing our conversation that I posted yesterday, Susan and I discuss the importance and effectiveness of having a pre-competition routine not only for the experienced athletes, but the novices as well.
I want to provide my readers with good information that they value. Let me know what you think of the video blog format in the comments. Constructive criticism is always welcomed here at Cognitive Edge.
"In criticism I will be bold, and as sternly, absolutely just with friend and foe. From this purpose nothing shall turn me."
-Edgar Allan Poe