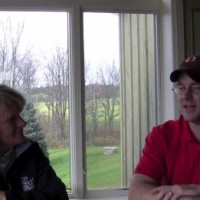 Last week I got the opportunity to sit down and talk with Susan Garrett about her recent successes at the USDAA Nationals and I thought I'd share some of our discussion.
In the video clip we touched on some of the reasons why having a pre-competition routine helps athletes perform their best. Susan and I also talked about some of the things she uses to get herself and her dogs ready for "Big Events", and how keeping her routine flexible allows Susan to make adjustments to maximize her performance.
The video starts with me trying to sit down in my chair while talking to Susan :0. We were just chatting and thought that people might find our discussion interesting. You be the judge.
In the clip of Susan's pre-run routine from the FCI championships you can catch a glimpse of some of the different components she uses to get mentally and physically ready. There's the physical warm-up for Susan and her canine partner, Feature. Some relaxation breathing and focusing while stretching her dog. And, some visualization while Susan does her final prep of Encore, right before they run.
It's important to understand that while the goal of a pre-competition routine will be the same for everyone – prepare yourself for a personal best performance, everyone will take a different path to get there. Knowing what you need to set the table for your best performance takes some time and attention to detail. I'll put up another post in the next few days outlining some ideas of what you can do to get started. In the meantime, here are a couple of examples of what Susan and teammate Kim Cullen used while on their way to winning the 2010 DAM Team Championship.
This shot is of Susan performing her dynamic warm-up several minutes before getting her dog. This component increases blood flow to Susan's muscles, boosts her heart rate, raises her core temperature and lets her body send signals to her brain to start focusing. It's game time!
Here we can see Susan doing her last set of course visualizations. A very focused look on her face, Susan is reviewing the course, her handling plan and her timing. This mental rehearsal allows Susan to focus on her key performance cues to get the best out of herself and her dogs without having to worry about the intricate details of her run. They flow "auto-magically".
This is Kim and Recess about five minutes before their run. Kim is visualizing her run, relaxing Recess with some light massage (I think Recess is enjoying it), and listening to some calming music. All these components help Kim get into her ideal performance state. Alert, focused, but relaxed. It lets them run personal bests consistently.
br>
If you have a pre-competition routine, what components do you use? Have you seen or heard of any "unique" routines? I know there's got to be more than one story out there about a professional athlete. Share in the comments. They can be fun to read and help others get started developing their own.
Cheers.