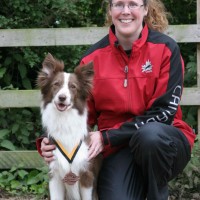 As an athlete, being able to control your nerves at important events is a key skill you must have to be successful and feel like a winner. One of the tools I always use to help manage the butterflies and panic attacks is a technique called active progressive relaxation (APR). I've found it extremely valuable and effective. So much so, that I used it every day with Team Canada at the 2011 World Agility Open.
About a month ago, my wife Kim asked me if I would make her an mp3 of the script that I use to work through the APR exercise. Something that she could throw on her iPod and take with her to all her practices and competitions. Kim thought that using APR really made a difference with her performances at WAO and wanted to continue using it.
That sounded like a great idea so I did it. I made her that mp3 and now Kim is able to run through an APR session when ever and where ever she wants.
Now, while I've been putting together The Winning Process program, I thought that my APR exercise would be great to include. It's something everybody can use and get results right away. I mentioned it to Kim and I got a look. Yes a look. Kim said "You're not going to give away one of my ninja secrets are you?"
Well what can I say? Of course I am. I've uploaded the APR exercise to the member's area in the bonus section for TWP members to download and enjoy.
But before you take off and grab that mp3 let me tell you a little bit more about APR.
Active Progressive Relaxation
APR involves actively contracting and then relaxing specific muscle groups in your body, following a specific pattern. This triggers a response in your brain that helps you get into a deep state of relaxation. When you experience this deep relaxation you often feel warmth and heaviness in your limbs. Your mind becomes quiet and attuned to your body, feeling the rhythm of your breathing.
You can use APR with many of the techniques and strategies you will learn following The Winning Process. It can help you:
improve self confidence
develop pre-competition and competition strategies to cope with new and unexpected situations that may crop up
focus your attention or concentrate on a particular skill you're trying to learn or develop, whether in training or in competition
One of the great things about APR is that you can use it in so many situations. Not just for agility. Many of the athletes that I work with, use APR to help them reduce the stress they feel in their daily lives. You can use it at work, on the commute in, at home, and definitely at night when you find you're having trouble turning off your brain and getting to sleep. APR works. It's also a fantastic way to start off your day.
So if you're already a member of TWP, head on over to the member's area and get the mp3. Load it up on your iPod/music player and enjoy the sensation of relaxation.
If you're not already a member, head over to thewinningprocess.cognitive-edge.ca, check out the videos and register for the program. It starts December 1 so the last day to sign-up is November 30. We also unfortunately have a limit on the number of people that can be a part of the program and each day we're getting closer to that limit. So, if you're thinking about becoming a member and joining us on The Winning Process journey, don't wait.
"You have to be able to focus, to control your energy. You need to make it your ally, instead of trying to harness it, to muscle it. That wastes energy too. There has to be a harmony between you and your body. Your mind and your body, and your soul have to connect in order to move forward. And this comes through relaxation."
~ Elvis Stojko