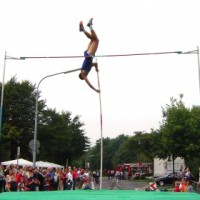 It's been a little while since I've posted so I thought I touch on something I've been thinking about a lot lately. And coincidentally it follows up nicely from my last post. Just to recap – on the last post I discussed that the content of our self-talk plays as important a role in shaping our performance (maybe even more important) as does the quantity of it. One of the main characteristics of self-talk is the purpose of it. Do you use it to motivate you, do you use it to keep you task focused (i.e., instructional), or do you use a combination of the two. Understanding this can help direct you in changing your self-talk so that it's harnessed to improve your performance.
What I'd like to do today is to look at another characteristic of your self-talk. And that's whether or not it's negative or positive in nature. Would your self-talk be considered optimistic or pessimistic? Without documenting your self-talk through the use of a sports journal or diary you may struggle to answer this question accurately.
A little rant here. I can't stress this enough – keep a sports journal. In general, when you reflect back on what you said to yourself, hours, days, weeks before, the reliability of your reflections probably won't be great. Since we want to cash in on improving our self-talk and thus improving our performance and enjoyment, we need an accurate picture of what's actually happening not what you think is happening. So keep a journal. End of little rant.
Just to give you an idea of what I'm talking about with the optimistic and pessimistic self-talk, I'll give you a few examples using both motivational and instructional types.
Motivational – Negative
-"Everyone watching thinks I won't be able to do this."
Motivational – Positive
-"I'm going to go all out, every second."
Instructional – Negative
-"Don't get nervous."
Instructional – Positive
-"Head up, keep my feet moving."
For the most part, successful performances are associated with positive self-talk. Those athletes who speak to themselves with an optimistic tone, their performances are felt to have been more successful and enjoyable than their pessimistic counterparts. It's pretty straight forward.
Self-talk has long term, cumulative effects. Regardless of the content of your self-talk, because you have to listen to it all the time (consciously or unconsciously) you begin to believe it, and once you begin to believe it, you start to act it. Self-talk positive, think positive, feel positive, perform positive.
Is all Negative Self-Talk bad?
No it's not. In fact some of the most negative self-talk can have a positive influence on your performance, as long as it doesn't become an ongoing habit. Negative self-talk can be a great motivator. Similar to the first example above, you can use a motivational-negative statement to fire yourself up. "No one thinks I can do it." If you reframe it as a challenge and work to prove them wrong, it can help you get your game face on and spur you to an excellent performance.
Knowing when to use this type of self-talk is a key issue if it's to be successful. When do you use positive self-talk? When do you use negative self-talk. You learn by taking control of it. Script it if you can. Try it out. Use your journal. What type of self-talk did you have? How was your performance? Is there a pattern emerging?
I'd love to hear your thoughts on what self-talk you use to get pumped up in the comments. Don't be shy.
Finally, as I mentioned earlier, it's been awhile since my last post and there's a very good reason. I've been working away on a new program that will be coming out really really soon. It's called "The Boost" and I can't tell you too much more right now, cause it's top secret ;). But stay tuned there's going to be more info coming out shortly.