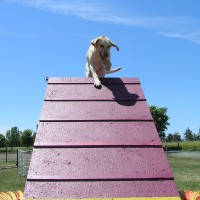 I hope that everyone has enjoyed taking the psychological skills evaluation. If you haven't tried it yet, sign up for the Cognitive Edge newsletter and I'll send you the link to register for the questionnaire. And, please don't hesitate to let me know if you're having any trouble getting to it. It's a valuable tool that you can use to help guide your development.
Strengths and Weaknesses
The psychological skills evaluation questionnaire, and many others like it, are used all the time to get an idea about an athlete's mental strengths and weaknesses. The reaction I get from people completing it, run the gamut. From "Wow, that was great. I learned a lot about myself" to "Stupid test. It doesn't know me at all". Really, both reactions, and everything in between, are valid. The questionnaire is not trying to determining if your answers were right or wrong.
What matters is what you do with the information you get. You have a choice, and really, what more can you ask for. You can take the results and chuck them, bury your head in the sand and continue doing what you've always done before or, you can use the results to direct your training, develop strategies that maximize your strengths and work on improving your weaknesses. Take ownership of your results. They're great motivation.
I want to share a story about me from my younger and more athletic days. I think it shows just how important taking ownership of your performance is and how making the choice to be an active participant in your training both mentally and physically pays big dividends.
When I was younger, maybe 16 or 17 years old, I was in the middle of my first junior hockey season. We were a terrible team, winning only 1 of every four games. Most of the teams I played on were like that – middle of the pack and below .500. I remember having a conversation with my dad and I was griping about how bad our team was. I told my dad that I thought that it seemed so unfair that I was always on losing teams and my younger brother was always on winning teams. I was a touch jealous. My brother's hockey teams regularly played in provincial championships and competed for the top spot in their league.
I'm not sure of the exact moment, but I know that somewhere between the "We suck!" and the "It's not fair.", it dawned on me. It seems obvious now, but I finally figured out that there was a reason that my brother's teams were always successful. It wasn't just blind luck, he played on them! He was what made them good.
For me, I believed that being a member of a successful team was luck. I was unlucky to be on a poor team. I was a passive part of the team and had little impact in determining the success of the team. How I did, depended on how everyone else played. For my brother, it was the exact opposite. How my brother played, determined how the team did.
Three years later, I was winning a provincial championship. What was the difference maker? The way I thought of myself as an athlete. I was in control of determining how successful I would become. It wasn't luck. I made it happen. The team was good because I made it good, and all it took was a change in mindset.
Whether your weaknesses out-weigh your strengths, or vice versa, you can always make the choice. Take ownership of your performances. Choose to be a champion.
"You cannot dream yourself into a character; you must hammer and forge one for yourself"
-James A. Froude