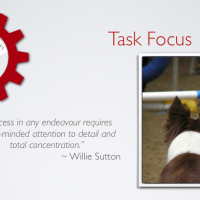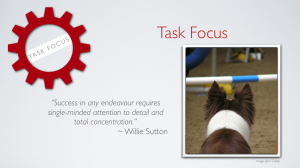 I must say it's been a busy couple of weeks around here. I've just finished putting up the third and final video from my new program. I've been getting lots of great feedback and the positive energy is fantastic.
I hope that you've been able to follow along with me. If you head over to http://thewinningprocess.cognitive-edge.ca you can still see the first two videos, and of course the third one that was just released. There's some great content in all of them; however, they won't be available for long – I'll be taking them down shortly.
In the latest video, I reveal the remaining five action elements in The Winning Process. If you recall from the second video, I gave you a sneak peak at the BELIEF element. But now we can round out the full roster. To get the details, sign up for access here.
And that brings me to some exciting news that I'd like to share. Since I launched the Pre-Competition Routines for Big Events, I've been getting emails asking if and when another program would be starting up. And I've finally got answers and they are – Yes and Now!
That's right, we are opening up registration for The Winning Process (TWP) program this morning Tuesday, November 22, 2011 – bright and early.
The Winning Process program is a six week journey where members get access to detailed learning modules, one for each action element in the program. Each learning module has an on-demand video outlining the learning goals for that week and explanations for the techniques and strategies that will be covered. Members will be able to follow along with the video using the downloadable presentation slides to make it easier to take notes.
Each module will come with a workbook and "Challenges" for the members to develop their psychological skills. And the best part, at the end of each module I will host a live and interactive coaching call to answer your questions, provide feedback, and generally make things awesome (just kidding;-) ). Of course, every coaching call will be recorded and you will be able to access it from within the members area.
As a member of TWP you will also get access to the member's only forums where you can share your successes and challenges, ask questions, and build a community of like minded individuals. Finally, your membership includes access to all the teaching material and resources for a full six months.
Pretty exciting! I can't wait to start working with everyone. Now there are two things you need to know. First, there is a limit to the number of people that can take part in the program at one time. Once we reach the limit we'll have to close the registration. Second, the program will be starting on December 1 so you'll only be able to register (if it isn't filled) between now and November 30.
Speaking of dates, I mentioned before that we will be tackling each of the six learning modules of the Winning Process over a 6-week period. Some of you may be already glancing at your calendars and thinking about how busy you'll be around the holidays that are almost upon us. Don't worry – we will take a 2-week break around the Christmas holidays so that you won't have to feel rushed and overwhelmed during this festive time. We'll cover our first three modules in December, and then start our holiday break so we can focus on spending time with family and friends.
When we return in January, we'll finish the last 3 modules of the program. As a special bonus – our first module back in the new year will be on Discipline which is all about effective goal setting. What better way to kick off the new year and all those resolutions we'll be making, then by starting them off on the right track, learning effective strategies to make them last!
Now if this program sounds like something you would be interested in, don't hesitate. I don't want to turn anyone away who wants to take part. It's going to be a fantastic experience that you don't want to miss.
You can jump right to the link to become a member of the Winning Process program by visiting http://thewinningprocess.cognitive-edge.ca, but I would also recommend watching the videos. As I mentioned at the top, there's lots of great information in them.