Just a couple of notes to start. First, I want to remind everyone that the Pre-Competition Routine for Big Events Program is in the home stretch. There's only 3 more days until the bundle deal for the program is gone. Visit http://precompetition.cognitive-edge.ca to get involved.
Second, for those who have already jumped in, it's been pointed out by many of our American members that the first webinar date is Thanksgiving in the US. Sorry about that, it wasn't on any of our calendars up here in Canada. We are going to reschedule, so stay tuned. With that out of the way…
Last week in my guest post on Susan Garrett's blog, I introduced the idea of an Ideal Performance State (IPS). When you achieve your IPS you often achieve your personal best performances. A lot of people call it being "in the zone" or in "flow". It's a great place to be.
To achieve your IPS you need to manage your physical, mental, and emotional self. A key factor in this equation is your arousal level. Your arousal level is the intensity of your thoughts, feelings, and behaviour.
A great analogy that I think most of us can relate to is that of a car. Think of arousal as the RPM (revolutions per minute) of your engine. When you are trying to get from point A to point B in your car, you have to use the accelerator to control your RPM. You need to get the RPM's up high enough to start the car moving. If you don't, the car will stall out.
On the reverse, if you hit the accelerator too hard and the RPM's shoot way up, you accelerate out of control and might crash. The trick is learning how to control the RPM and knowing what is the appropriate level for a given situation (e.g., driving in a parking lot versus passing a tractor-trailer on the interstate). As anyone who has taken out a student driver knows, these things aren't easy to do without practice.
Just like the car, the athlete needs to regulate their arousal level for optimal performance. In the graph below, I have presented the relationship between one's arousal level and one's performance. Your IPS is a small range of arousal where your performance is at its highest.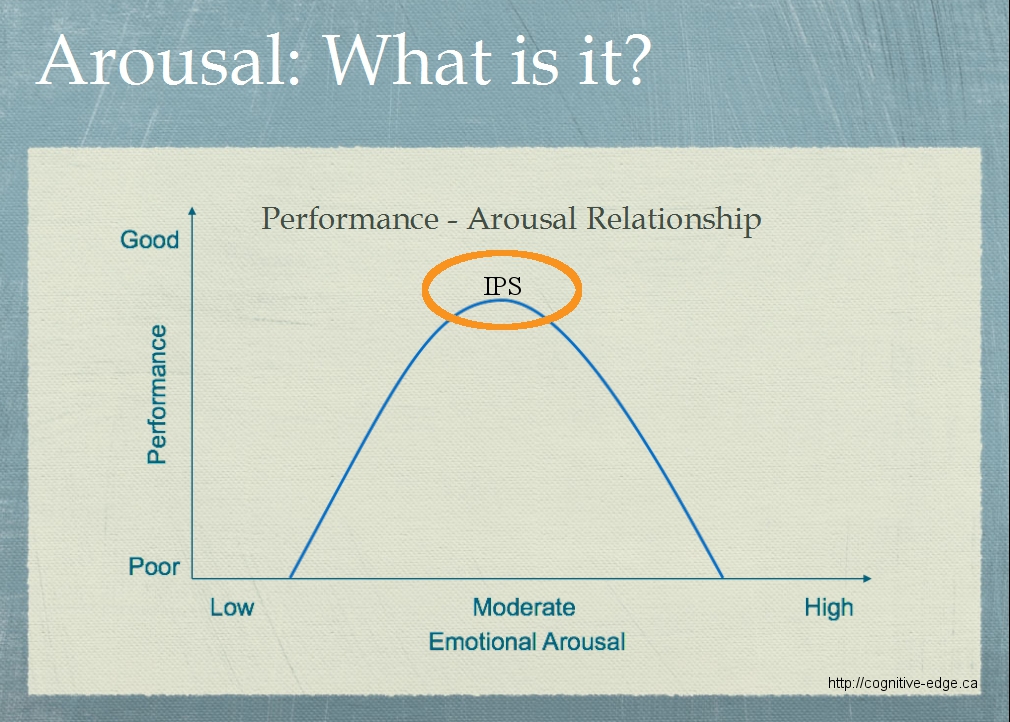 When I ask athletes about how they felt just before a big competition, I often get things like "I was nervous" or "I felt sick to my stomach". And their performance, as you can imagine wasn't at the level they wanted. These athletes are on the far right side of the graph. It's fairly intuitive, they need to use some of their psychological skills to reduce their arousal levels and bring them closer to their IPS.
And other athletes, when I speak with them after a poor performance, say "I don't know why I performed so poorly, I wasn't nervous at all". This situation isn't quite as intuitive, but often times, it's arousal again becoming a problem. These athletes are on the far left side of the graph and don't have enough intensity. Again, using some of their psychological skills, they can increase their arousal levels and move themselves closer to their IPS.
Now the relationship you have between your arousal levels and your performance isn't a one-size fits all thing. In the second graph, you can see that your personality, the environment, and your skill level can affect it.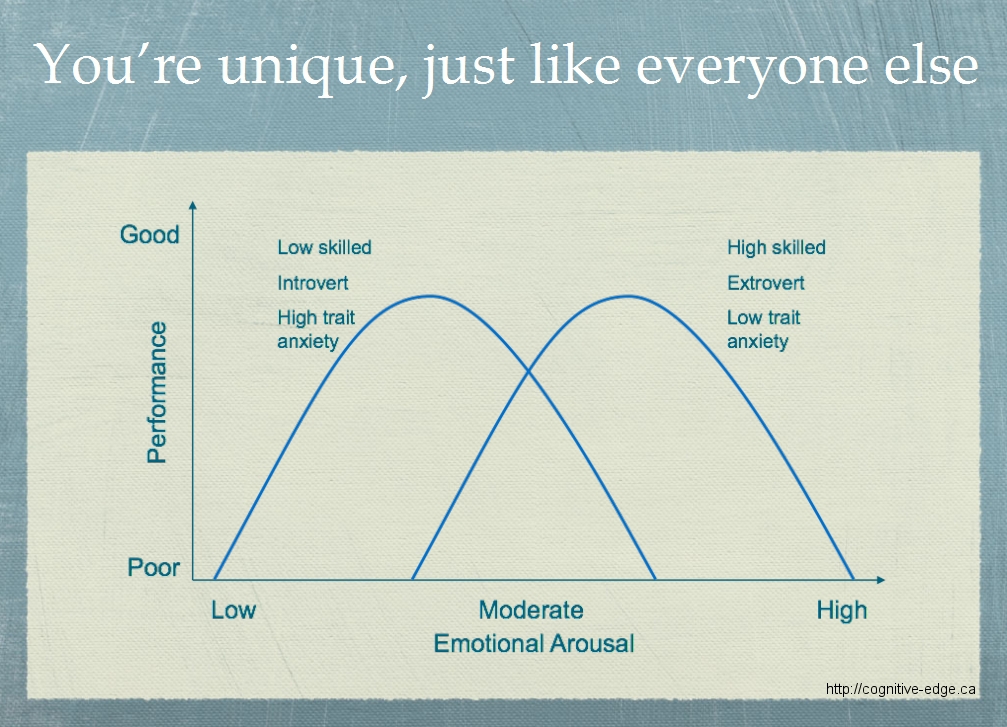 The curve on the left is an example of someone who may be an introvert, or is normally an anxious person, or more importantly in a sport context, may be trying to execute skills that aren't well learned. What you can see is that with a little bit of arousal, this person is able to achieve their IPS. Somewhere in between low and moderate levels of arousal.
For athletes with normally low levels of anxiety, or who are extroverted, or are very proficient in their skills, the curve shifts over to the right. Here, low levels of arousal do nothing to help their performance. They need to use their psychological skills training to boost their arousal. For these athletes, only the extreme end of arousal causes their performance to break down. To reach their IPS they need to get their arousal levels up towards the high end of the scale.
I also want to point out that the requirements of your sport plays a huge role in this relationship. The levels of arousal that are effective for an agility handler or a figure skater won't be the same for a football or rugby player.
Why Does This Happen?
During a competition or in practice too, there are things (cues) that are important for you to pay attention to in order to be successful. They can be things like your position on the field, your opponent's movements, the proper way you need to move your leg to get maximum acceleration after a direction change. But there are also a lot of irrelevant cues too. Like what clothing spectators are wearing, the type of music that may be playing in the background, or if your left foot is itchy.
The figure below shows you what I mean. When your arousal level is too low, you don't filter out enough of the irrelevant cues (the X's). You're distracted and not enough of your attentional focus is on the right things – so your performance suffers. When you're in your IPS, you've found that sweet spot where you can filter out all the unnecessary stuff and direct your full attention to everything that's important (the O's). But, as your arousal level pushes you beyond your IPS, you begin filtering out some pretty important things. You get "tunnel vision" and again, your performance will not be what you had hoped it would be.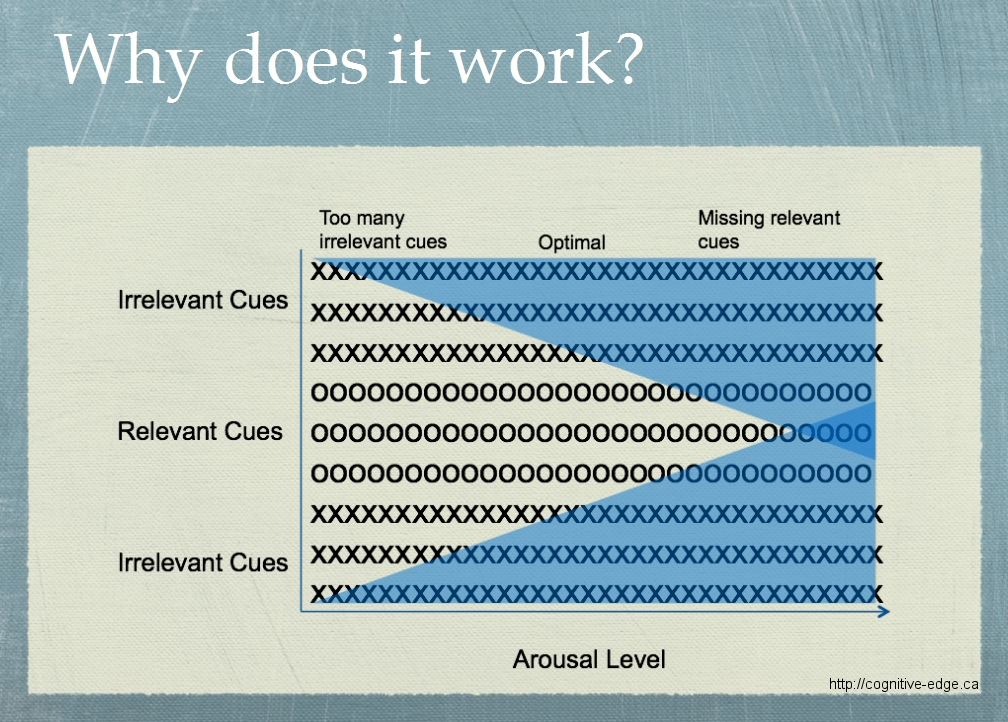 One idea about why this relationship exists is that your arousal has a direct impact on your ability to focus your attentional resources. From the graph above, you can see that as you move from left (low) to right (high) along the arousal axis, the number of cues (both X's and O's) you are able to pay attention to shrinks. With an increase in arousal you begin filtering out cues (shaded blue).
A great way you can make sure you land in your IPS and don't find yourself either to high or too low when it comes to your arousal level is to develop a killer pre-competition routine. You can find out more details about our program at http://precompetition.cognitive-edge.ca