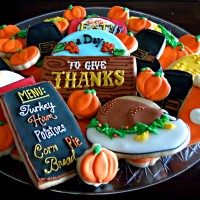 Happy Thanksgiving to all my American friends. I hope you have a great day and get to enjoy every minute of it with your family, friends, and four-legged critters.
And while we are all paying tribute to the people who bring value to our lives, I'd like to thank everyone who has already joined my new program, The Winning Process. We've had a great response so far and I'm getting really excited about sharing the strategies and techniques that can make you a winner every time you step on the field to play.
The program officially starts December 1, so don't wait too long. Registration will close on November 30, however we are limited in the number of people who can take part. If we reach that limit before the closing date, I'll have to shut registration down early. I don't want you to be disappointed.
If you're curious about the program visit http://thewinningprocess.cognitive-edge.ca. In addition to getting the details about the program, you'll also be able to watch several free videos with some great information that you can use right now to improve your mental game.
Happy Thanksgiving!
"Not what we say about our blessings, but how we use them, is the true measure of our thanksgiving."
~ W. T. Purkiser