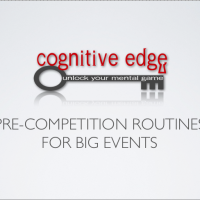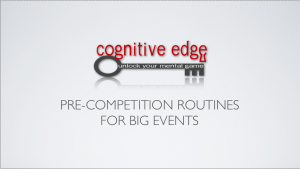 I hosted a live webinar for our 2010 Pre-Competition Routine for Big Event members last night. I'd like to thank everyone that was able to make it out. I enjoyed the session and I hope that those in attendance were able to take away some good info that they can put to use right away.
For the PCRBE members who weren't able to take part, I was able to record the session and I'm converting it as I type this post. So you will be able to see it shortly.
I'll send out the details on how to access the on-demand version it in an email shortly. It's taking a long time to process. Of course it's over an hour's worth of me talking, so my computer may be falling asleep from time to time (Sorry, my attempt at humour – it's taken longer to convert than the actual time of webinar).
With the webinar, I got to test out a new way to deliver the presentation, and by most accounts, participants were very happy with the technical side of things. If you were there, I'd like to get your feedback on how you thought things went. You can email me directly if you want or just post in the comments below.
Now with the PCRBE program over, it's time to introduce another one that will be starting up very soon. I'm excited about it. I'm positive you'll like it too.
It's called "The Winning Process". You can find out more information by visiting http://thewinningprocess.cognitvie-edge.ca.
Over the next week, I'll be releasing some short mental training videos based on the program for free. So you just might want to stop in and check it out.
And finally, my wife Kim and I had a bit of a disagreement about the intro video for the "The Winning Process" site. I preferred one and she preferred another. I'll post them both here and put a poll up at the end. Make your pick and let us know which one you like better. And if you're feeling lucky, why not guess who liked which one in the comments.
Video #1
Video #2
[poll id="13″]