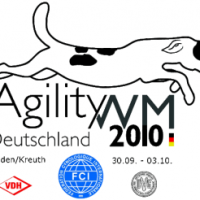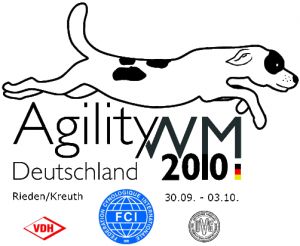 Good luck to the 2010 CKC Agility Team competing at the FCI World Championships in Rieden, Germany this week!
This competition pits the best agility teams, from countries around the globe, against each other in "winner-take-all", individual and team events. I believe that Canada is ready to own the podium. Run Fast! Run Clean! And, enjoy the experience!
I got the opportunity to spend some time this summer working with Team Canada on team building. We had lots of fun getting to know each other better and worked on some communication skills as well. I know this is a very cohesive team and they have done a great job preparing themselves for the championship.
I was able to meet with the team again, a couple of weeks ago, in the final run up to their departure for Europe. We had a great session talking about developing and managing their pre-run routines for this event. Funny things can happen when you go to world championships. You may not be able to warm-up the way you normally do at a local trial, or prepare quite the same way because of the sheer size of the event. I wanted to make sure they were ready for this so that it wouldn't become a distraction or add stress, throwing them off their game. Some of the veterans were kind enough to share some of their past experiences too.
You can follow the exploits of Team Canada at the FCI Agility World Championships on their blog, and you can send them well wishes from the team site here.
Dream, Believe, Achieve!