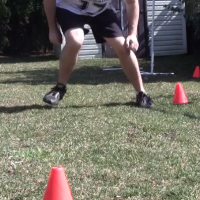 While I usually focus on the benefits of mental training for physical performances, physical training has just as important a role in your mental performances. Self-confidence and anxiety are two important factors that have significant effects on your performance and are strongly related to your physical capabilities.
When you develop strong physical skills, you improve your self-confidence. Believing that you can execute your game plan and demonstrating it in front of others, feeds into it. As you continue to build your skills, your confidence in your ability to be successful develops resiliency to poor performance and that's something everyone needs and wants. This is the path to more consistent performances and to more enjoyment from your sport.
From the perspective of anxiety, nothing makes you feel more nervous than being unsure of your own abilities. Not knowing if you can execute a certain maneuver during a competition can bring on that "sick to your stomach" feeling which often leads to the poor performance that makes us question why we play the sports we do.
Knowing that the best decision is to use a front cross between obstacles 7 and 8 and being unsure if you can get there in time, execute it without falling down, and maintain focus on your dog is not fun. Many handlers will change their plan and run more "conservatively" but will feel the pang of regret because they know that they could have done better.
Recognizing this important reciprocal relationship between physical and mental skills, part of the development program that my wife Kim and I have put together as coaches of the CKC Agility Team involves specific drills to improve the quickness and the footwork of the handler. By developing these skills, our team can feel true freedom in competition as they have trained hard and developed the agility skills they need to compete. They'll have the self-confidence to push their limits and be worry-free, knowing that they can trust in their abilities.
I'd like to share one of the agility drills that we'll be using to become "free" athletes while we run with our dogs. But before you take a look at it, check out this quick (<20s) video emphasizing the importance of good footwork.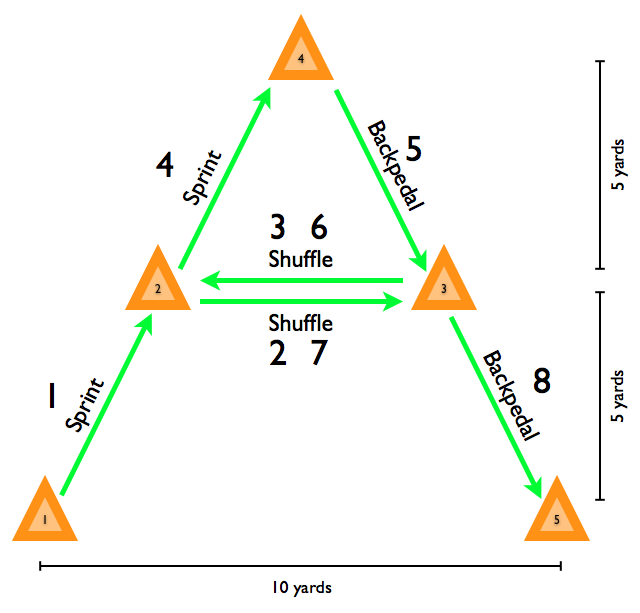 Setup: Place cones in an A-shape such that cone 1 and cone 5 are 10 yards apart. Cones 2 and 3 are 5 yards in front of cones 1 and 5 and 5 yards apart. Cone 4 is 5 yards in front of cones 2 and 3, placed in the center.
Sprint from cone 1 to cone 2.
Shuffle from cone 2 to cone 3.
Shuffle from cone 3 back to cone 2.
Sprint from cone 2 to cone 4.
Pivot and backpedal from cone 4 to cone 3.
Shuffle from cone 3 to cone 2.
Shuffle from cone 2 back to cone 3.
Backpedal from cone 3 to cone 5.
Repeat in reverse order, always facing cone 4 (i.e., Sprinting between cones 5 and 3, and cones 3 and 4; backpedaling between cones 4 and 2, and cones 2 and 1).