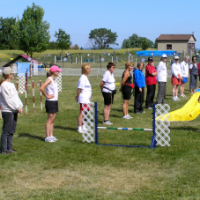 A substantial amount of time and money are spent on attending and participating in training seminars and camps. For agility enthusiasts of all levels, these are hard earned dollars and most often, weekends spent away from family. You want value. At the end of a camp or seminar, you want to leave with the feeling that it was worth it.
A large chunk of this feeling of worth comes from what the presenter and host provide. If you do your research and speak to colleagues who have already participated, you can be pretty sure of the quality of the seminar. But this is only part of the picture.
The other part of the picture is you. As a participant, you shoulder a fair bit of responsibility for the "value" of the seminar. Once committed (whether you think the presenter/material is good), you are responsible for making the best of what is offered.
To get that extra value out of every seminar and camp you attend, you need to be aware of a dynamic that is in play when working as part of a group. People tend to use less effort performing tasks in a group setting when compared to working on their own. This can have a dramatic effect on the value you gain from taking part in a camp or seminar as one of a number of participants.
Social Loafing
This phenomenon is called social loafing and has been found to impact the performance of individuals in groups in a wide variety of settings. Pretty much anywhere people work together.
There are a number of reasons why social loafing takes place. In some cases, people want to save their best effort for when they are working on an individual task. Where they feel their effort will stand out more and be recognized by others. Other times, group members try to minimize their effort and get by with as little work as possible, since they feel that as one member of the group, their individual effort won't be noticed. Sometimes, people reduce their personal efforts because they feel that they are dispensable. And, finally, individuals may reduce their efforts because they don't want to provide a "free ride" to the less productive members in the group.
Regardless of the reason why it happens, there are a few things that you can do to ensure that you are giving your best effort in seminars and camps and getting that value that you want.
Hold yourself accountable for your effort.

After every task or drill, make a conscious effort to rate yourself. Just by being aware that you are going to do some self-monitoring will lessen the chance you will take it easy.

Set quick goals for yourself in every activity.

It doesn't take too much time to come up with a goal that allows you to contribute to the group. It's far too easy to become passive. Make yourself valuable to the seminar or camp. Something as simple as asking the presenter/host a question gets you engaged. If you set a goal of asking the presenter one good question about each concept presented, you will work harder and focus more on the information being presented. Expending energy to come up with that good question will add value and give you a deeper understanding of the material.

Advertise.

Let others in your group know what you're trying to accomplish. If you're at a seminar with friends or colleagues, tell them that you want to be putting out your best effort for the duration and that you want them to let you know if you're not working hard. Good friends will always keep you honest.

Socialize.

Work hard when it's time to work hard but when there's some downtime, socialize with other members at your seminar or camp. Get to know each other and develop some friendships. The tighter knit the group the less influence social loafing has on your effort.
These are a few relatively simple things that you can do to take responsibility and control over your experience at camps and seminars. Owning your experience and adding value to it by putting your best effort forward will ensure that your time and money won't be wasted.
"True contentment is the power of getting of any situation all that there is in it." -G.K. Chesterton
I know there are a lot of agility seminar and camp veterans out there. I'd like to hear what you do to get the most value out of the events you attend. What makes or breaks a seminar for you? Leave your seminar/camp tips in the comments section so everyone can share.