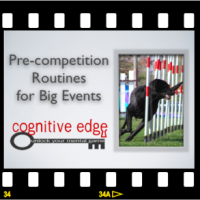 The last few weeks, I've been talking quite a bit about the importance of having a pre-competition routine. How it can make the competitions feel fun again. How it helps you filter out all the distractions and stay focused on the things that matter most for your run. The list of benefits go on and on.
I got such an awesome response from Team Canada as I helped them prepare for the FCI world championships in Germany this fall. I developed a webinar dealing specifically with the challenges of developing a world class pre-competition routine. The feedback was great and now with the positive vibes I've been getting on the blog and through email I know these techniques and skills are something that can really benefit people in the agility community.
It's been really busy here at Cognitive Edge and I've spent a lot of time putting together a program that I know can help you develop your own killer routine. I made sure that it's something you can use whether you're just starting out in agility or a veteran that wants that extra edge and maybe a little more enjoyment during competition. You can visit http://precompetition.cognitive-edge.ca right now and see Susan Garrett and me dish out the program details.
I've detailed the process I use when working with my athletes in one-on-one sessions. I know it works. And I'm super excited to be able to share this with all of you!
Here's what comes with the program. You get a 34-minute downloadable video explaining what a routine can do for you, how it works, and the steps to take to create a personalized, effective pre-competition routine. There's a 21-page companion eBook with detailed worksheets to help you monitor your progress and keep track of how your routine is working. And, something I'm
really
excited about – I've joined forces with Susan Garrett and we will be hosting three – That's right – three 1-hour long webinars and coaching sessions to help you get everything you can out of your pre-competition routine. If you're not there live, no problem. Every session will be recorded and you'll be able to watch the webinars whenever your schedule allows it.
The best part is that for a limited time, we're going to be offering all of these things; the downloadable video (no waiting for shipping), the companion eBook, and the webinars, all together as a specially priced bundle. It's a mental game package that no dog agility enthusiast will want to be without.
Now, the downside is that I am only able to offer you this package deal on all of these items for the next week. So Friday, November 12, 2010 will be the last day for the bundled offer. You will still be able to get most of the products, but they will be individually priced and not as cost effective for you.
So click on this link now and head over to my Pre-Competition Routines for Big Events page where you'll find a short video of Susan Garrett and I discussing how this program can positively impact your life.