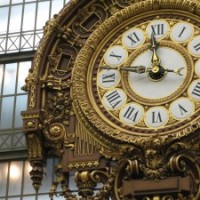 One of the great traditions that many of us take part in in the new year is the setting of New Year's resolutions. It's like a massive goal setting session. As we change the calendar over to the next year, it provides us with the opportunity to evaluate how the last year went and start anew.
If you're like most people, chances are the majority of your resolutions from 2010 didn't make it through January let alone the other 11 months of the year. Most often, these resolutions involve making changes to already stable behaviours that are well entrenched into our daily routines. Creating these types of changes are hard, especially if you don't have the right tools to make it happen.
I know that everyone sets goals for themselves and really this is what we are doing with our new year's resolutions, but did you know there is a right way and a wrong way to do this? There's actually years upon years of research demonstrating how making adjustments to how we set our goals can both positively and negatively affect our chances of reaching them. Below, I will outline a cool strategy that you can use to help you with your own goal setting and new year's resolutions.
I would be remiss if I didn't mention that one of the great things about goal setting is that the strategies, tools, and techniques can be applied to everything you do.
Fitness
Health
Personal Finance
Relationships
Sport Performance
Business
Self-Improvement
There is no limit to where you can use goal setting. From a sport psychology perspective, it is the engine that creates change. From a skill development perspective, it is driving force behind any improvement in your abilities.
Something that I always notice (particularly with new year's resolutions) is that there is a huge focus on the beginning of it.
"When am I going to start my new year's resolution?"
Getting the ball rolling is important, don't get me wrong, but it doesn't deserve the attention it gets. To improve the effectiveness of your new year's resolution and other goals you have, you need to consider the end. –By what time do you want to have achieved your goal? Without this critical piece of information, you are setting yourself up to fail. Or at the very least, never to finish your goal.
"A goal is a dream with a deadline" – Napoleon Hill
Deadline First
Use the deadline first method of setting your goals or resolutions. Once you have a goal in mind, set a deadline to achieve that goal. Depending on the goal you choose, it can be either long-term or short-term. Once you have your deadline, you can work backwards setting sub-goals and identifying strategies or actions that you can use to ensure you reach your goal. Finally ending with when you begin.
Some of the good things that come from using the deadline first method of goal setting is that it:
1) provides a road map of the steps you need to complete to reach your goal;
2) gives you the opportunity to evaluate your progress; and
3) informs the setting of new goals.
Without a deadline you allow yourself to continue doing what you've always done, which gets you what you've always got… You know that expression "if you always do what you've always done, you'll always get what you've always got" – which is probably not where you want to be. Without the threat of failure or failure itself, there is no motivation to change.
By answering this simple question "When?", you can dramatically improve your chances of reaching your goals and maintaining your new year's resolutions.
Try this strategy and let me know how you make out. Share your goal setting stories in the comments.
Cheers;
John