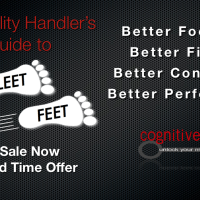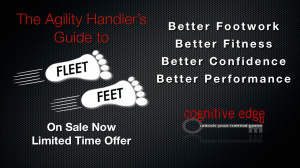 I'm really excited to announce the release of The Agility Handler's Guide To Fleet Feet. Over the last few weeks I've received many emails in response to one of my blog posts asking about what you can do to help improve your footwork, especially for agility.
To answer that question, I sat down with my wife Kim and we worked through her experiences and training as an international level agility competitor and reviewed all the different training techniques I've used in developing elite level youth hockey players. Drawing also on our shared university degrees in the study of human movement, we put together what I think is an awesome set of exercises geared directly at the unique requirements of the agility handler.
If you have ever thought to yourself any of these following, I believe The Agility Handler's Guide To Fleet Feet can help you.
I have two left feet when I'm running an agility course.
I wish my dog didn't have to wait for me to move on to the next obstacle.
I don't think I can get into the right position for my handling choices.
I hope I don't fall doing that front cross or smash into that obstacle.
You can relax. Help is here. With some hard work, those worrisome thoughts can be things of the past.
And, if your looking for something to give yourself an edge over your competition. Look no further.
I'm really excited to share The Agility Handler's Guide To Fleet Feet with you.
Designed with the agility handler specifically in mind, the guide provides both an eBook and a video so that you can clearly see how the exercises are performed.
To celebrate the first time release of The Agility Handler's Guide To Fleet Feet, we have a limited time, 20% off sale on the whole package. It's a great deal that won't last forever. Check it out now and don't miss out on the savings.
Visit http://fleetfeet.cognitive-edge.ca and start developing your own pair of fleet feet.