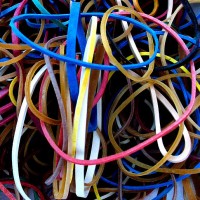 I can hear you saying it to yourself from here, "What in blazes is the Rubber Band Hypothesis?" Well I'm glad you asked.
The rubber band hypothesis is a new twist on the old nature/nurture debate. It's an analogy that helps explain the relationship between talent and training in determining an athlete's performance level, from novice through expert.
Let me explain, a rubber bands come in certain sizes and with certain elastic properties. It can be big enough to hold a rolled up newspaper or small, like those teeny tiny ones the orthodontist puts on your braces (my teeth hurt just thinking about them).
You can have rubber bands that barely stretch a millimeter (like those strange ones that hold the broccoli stocks together in the produce section). And, you can have the super stretchy kind of elastic like those used for paddle ball (the one man game that looks like so much fun, until you play it).
Just like an athlete's genes, once set, these properties can't be changed. The rubber band will only stretch as far as it's size and elasticity will allow it. This is it's potential stretch.
Now, what determines how far the rubber band actually stretches is the work put into it. This is the training.
If you consider the length the rubber band stretches as its performance, smaller, less elastic rubber bands can be stretched as far or farther than bigger, more elastic rubber bands if more work is done on the former compared to the latter.
The athlete, like the rubber band, has a genetic potential. However, this potential is immutable. It can't be changed. What can be changed though, is how much work is put into reaching the athlete's potential. The stretching of the rubber band. This is where you can expend your energy and make positive changes.
Rubber bands in Dog Sports
The rubber band hypothesis can be viewed from two different perspectives in dog sports. First, you have the handler who has a level of athletic potential and trains to get the most out of their performances. Second, you have the dog who, of course, has genetic potential but needs training to stretch towards its best performances.
Now I want you to spend a couple of seconds to think about how we see the rubber bands in our four-legged companions and in ourselves. When we are choosing our next flyball or agility dog, do we give equal weight to the dogs genetic potential and it's ability to train or do we favour one over the other? How do we attribute our performances? Are we just born to perform at this level or can we do something about it?
Big questions I know. Something to think about on a cool, fall afternoon. I'd like to hear your thoughts. Please share in the comments.