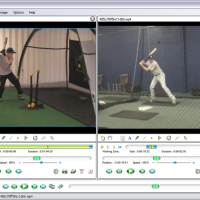 As you know, I'm a big fan of using video to help improve performances. From reviewing your competitions to assessing your practice, video is an important tool that can make a huge impact on your development.
While I see many people record their runs at the competitions I'm at, I often wonder what people do with the footage. How many people video and then leave it on the camera? Maybe looking at it once after their run to see how it turned out.
I think a limiting factor for most people when dealing with video, is knowing how to work with the video after it's off the camera and on a computer. Most computers come with some software that allows you to edit your footage and make fun videos. Here's one that my wife Kim, put together on her Mac.
Now this is pretty cool and I love watching the videos, but it doesn't really do a ton to help you improve your performance. And this is why Kim and I use other software to analyze training and competition with the specific goal of improving performance.
When you go looking for video analysis tools for sport, probably the biggest and most popular brand out there is Dartfish. It provides a whole lot of tools to break down the video and do timings, measurements, side by side comparisons, and overlays. Excellent stuff to help you work on your game. The draw back is the cost. It's not cheap.
Now the news is not all bad. If you're interested in getting more from your video, there's another program which I've tried out and it offers many of the same features as Dartfish, only it's FREE! That's right, no cost. However, it is only available for the PC.
The software is called Kinovea and you can visit the website here.
Here's a video I did a while back for a flyball practice. It's just an example of one of the things you can do with Kinovea.
It didn't take much playing around to get the software to do what I wanted. There are many other ways to use this software. It really is just limited by your imagination. Analyze your own runs or make videos as a teaching tool, whatever you like. I think Kinovea will make a great tool to add to your training toolbox.
While you're here, take our poll located to the right on the sidebar. Let us know if and when you use video to help prepare.
Also, I'd like to know how you use video to improve your performance. Share with us in the comments, and if anyone has any experience with other video analysis software, give us your opinion. What software have you used. How did you use it, and would you recommend it.