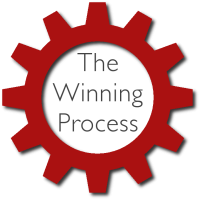 I've been getting such a great response from so many people about the program. The energy is fantastic.
Listen, if you've ever had doubts about your mental game, you're going to want to be a part of this program. The Winning Process is a comprehensive method for understanding and developing the skills, strategies, and techniques that can make your mental game, your strongest asset.
I really think that if you want to find more enjoyment and feel better about yourself as an athlete, you are going to find so much value in this program. Here's what's in store for you if you register:
Six instructional videos for each of the action elements of the Winning Process.
Weekly challenges and worksheets targeting the mental skills needed for success on and off the field.
Six hours of coaching time with me.
Access to the member's only online forum.
Plus, I've added my Active Progressive Relaxation mp3 that you can put on your iPod and listen to whenever and wherever you need to relax.
Now last year, I offered the Pre-Competition Routines for Big Events program and one of the biggest responses was that members wanted more webinars. They found the live "shows" immensely valuable, and that's why in this program, I doubled them.
That's right, crazy huh?  I think it'll be fun. There's so much energy you get from communicating and sharing in real time with people. I know that having the ability to ask and and have answered your questions, right then and there is very valuable.
And now I want to add just one more bonus.
The most common request I get about psychological skills training from dog sport people is to work with them on visualization. I'm going to add another webinar to the program – Visualization for Agility.
I did a similar one last year and it got the most positive reaction I've ever had so, it's definitely something you don't want to miss.
Just to recap. Registration for The Winning Process program closes November 30 and we only have limited space. When you register, you'll get instant access to the member's area where you can download the active progressive relaxation mp3 and start interacting with me and other members on the forum right away.
Starting December 1, the first of the six learning modules will be made available. Each module includes, a video, a weekly challenge, and worksheets to get you started. The following Wednesday (December 7) will be our first coaching call where you can ask your questions, get constructive feedback, and share your successes.
I'm so looking forward to starting this program. As I said at the start, if you've ever had any doubt about your mental game, this is the program for you. It's simple to register. Just click the button below. It's going to be a great journey of learning and self-discovery but best of all it's going to be a blast to be a part of.