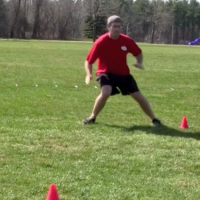 I've had a lot of interest and many questions about the footwork drill I posted last week. There were more than a few people who really liked the idea of working on their agility and coordination but weren't quite sure about the different movements in parts of the drill. So I set out to make a quick video showing me doing the drill. And the result …
Well it definitely shows that I haven't been training enough this winter.
I hope it will clarify what the drill should look like, even if it's not executed perfectly. I had a lot of fun putting it together and it gave me an excuse to spend some time outside in unbelievably awesome spring weather.
[jwplayer config="Custom Player1″ mediaid="2546″]
Did you catch any of my mistakes? Point them out in the comments :).